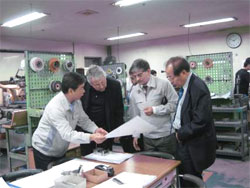 CLIENTS

For past 10 years we are serving a wide variety of customers for their multiple needs with our unique Program management and engineering design solutions.

Well established OEM and First tier suppliers in India and abroad prefer to work with us because of ability to maneuver the cost, quality and time criteria to establish products in shortest possible time.

We take pleasure in extending our services to following esteem customers :-
All Major First tier suppliers like TACO, Visteon, Brite, Motherson, Varroc etc.
Major Lighting systems suppliers like Magneti Marelli Motherson, Visteon, Lumax,
Major Electrical industries like Siemens , L & T , Forbs Marshall , Honeywell etc
Major tool rooms in Gulf countries , France, Australia and USA
Medical equipment parts suppliers in India
Engineering services providers like TCS, Tata Technologies, and Emerson etc.
Car manufacturers Mahindra and Tata Motors etc.
---
HOYT Engineering Solutions Pvt. Ltd , 'H' Blcok Plot No. A -112, MIDC Pimpri ,Pune - 411 018. Maharashtra ,India
Email : info@hoytindia.com , Phone : +91-20-27488381 , Fax : +91-20-27488382