HOYT offers wide range of engineering services to strategically manages the entire manufacturing chain-concept to production tooling.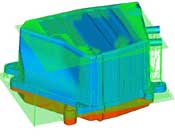 Following is the service map :-
TOOLING PROGRAM MANAGEMENT AND MANUFACTURING
» Precision Injection molds
» Progressive dies form electrical and electronics parts
» Lighting products Tooling
» Gauging and fixtures

ANALYSIS SERVICES
» Plastic Flow Analysis
» Sheet Metal Forming Analysis
» Shape Optimization using Finite Element Analysis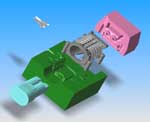 PRODUCT DEVELOPMENT SERVICES
» Product Reverse Engineering
» 3 D Modelling on Varied Platforms
» Product Re-engineering
» Conversion of Sheet Metal / Die Cast Parts to Plastic

CAM SERVICES
» CNC Programming for Tooling
» Electrode Design
» Manufacturing Process Planning
» Core /Cavity Extraction for Rapid Tolling Development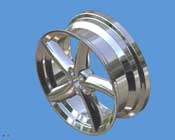 OTHER ENGINEERING SERVICES
» 3 D Data Conversion and Model History Building
» Pre and Post Processing of Data for Finite Elements
» Jigs and Fixture Design
» Design FMEAs during Product Development
» CAD Geometry Healing
A glimpse of the above service map will give you a better insight of service profile. If your required services is not listed on our Product list contact us using our Inquiry Form. We ensure Competitive Pricing ,Reliable service and deliveries.