| | |
| --- | --- |
| TOOLING DESIGN SERVICES | |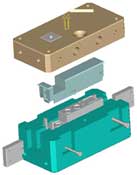 PLASTIC INJECTION MOULD DESIGN


HOYT designs small moulds for varied & difficult applications. The components types include automatic interior and exterior parts, telecommunication & instrumentation parts, connectors, skin panels etc.
Extensive knowledge of gating positions, cooling circuits, moulds cavity/core splits etc and reliance on complete plastics behavior modelling including flow analysis are core strengths. The customer is able to visualize pre-tooling layouts on preferred 3D solid modelling platforms for process verification in a very short time.
---
SHEET METAL DIE DESIGN

Progressive forming & draw tolls required for various types of components are designed regularly for automotive and non-automotive sectors. Appropriate application software's are used to define blank sizes, stages, press capacities & manufacturing possibilities. The tolling behavior, wrinkling, tearing & blank sizes are normally defined in the first 72 hours.

---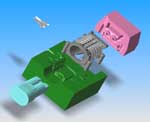 PRESSURE DIE-CASTING DIE DEIGN


Extensive experience in designing high and low pressure PDC dies for critical components for the automotive sector. Advanced skills in part modelling, geometry healing, die design, process know know & CNC programming is HOYT`s core strength. PDC dies of up to 1400 MT machine capacity have been designed. The components have surpassed specified criteria of geometric tolerance, surface finish and porosity.
---

COMPRESSION MOULD DESIGN Exposure to current technologies used in moulding Sheet Moulding Components and in related polymers has allowed HOYT to develop specialized skill sets in the design and development of SMS tooling & components.
---
HOYT Engineering Solutions Pvt. Ltd , 'H' Blcok Plot No. A -112, MIDC Pimpri ,Pune - 411 018. Maharashtra ,India
Email : info@hoytindia.com , Phone : +91-20-27488381 , Fax : +91-20-27488382